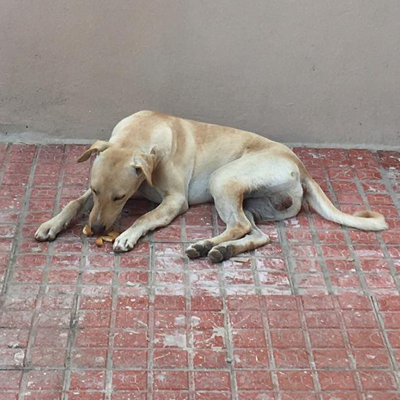 I got introduced to Kitu, when he was 5 months old with his other siblings. But in the process like any other place here also all of his siblings died with some unexpected reasons. He is the one survived and always with her mother. This kid was traumatized by humans before I came to the community. I closely observed his movements and playful acts with his mother and also their hard times to overcome the hunger. I started keeping food and water outside my place. In my absence kitu and his mother used to come and have the food.
Few objections came from the community members for giving food to them. But I educated and purpose of doing it. I didn't gave up my approach as I am doing with in the framework of LAW. Slowly after 2 months kitu gained good trust on me and my premises. Now he happily stays at my home all day as per his convenience. Sometimes I get a chance to play with this kid on my terrace. He still maintains some distance and never like me to touch me as he is still caring that fear. Takes time for him to socialize.
Name: Kitu
Age: 3 Years / Gender: Male / Breed: Indian Mixed Breed
Sterilized: No/ Vaccinated: No (Working on it)
Friendly: Bit Scared of Humans
Are you taking care of this dog? : Yes
Location: Hyderabad
Currently, I am taking care of his medication, food.